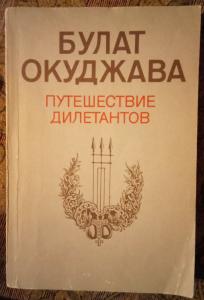 Булат Окуджава Путешествие дилетантов. Из записок отставного поручика Амирана Амилахвари. Таллин: Ээсти раамат. 1987 480s., binding type: paperback.
Category: Book, journal, almanac
Rubric: Russian prose of XX-XXI centuries.; Historical novels;
Place of origin of goods: СССР
Language: Russian
Description: Романтическая история любви, написанная известным советским поэтом. Действие романа относится ко времени последнего десятилетия царствования Николая I (1845-1855). Герои романа были свидетелями и участниками Крымской кампании.
Status: хорошее
ORDER FORM
Marked with * is required