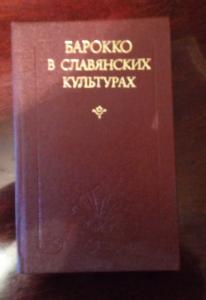 Редакционная коллегия: А. В. Липатов, А. И. Рогов, Л. А. Софронова Барокко в славянских культурах Москва: Наука. 1982 351s., binding type: hardcover.
Category: Book, journal, almanac
Rubric: Styles: Baroque, Rococo, Empire;
Place of origin of goods: СССР
Status: очень хорошее
Description of seller: В книге рассматриваются важнейшие вопросы славянского барокко, анализируются его поэтика, дидактическая и идейная направленность. Авторы статей связывают барокко с искусством других эпох, стремятся представить его как звено в непрерывной цепи развития славянской культуры.
(Seller: Olenka)
Price 25,00 грн.
ORDER FORM
Marked with * is required