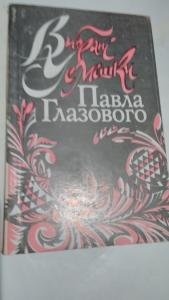 Глазовий П. Вибрані усмішки Київ: УГСА. 1992 140s., binding type: paperback.
Category: Book, journal, almanac
Rubric: Satire and humor;
Place of origin of goods: Украина
Language: ukrainian
Description: Вірші Павла Глазового додають людям настрою, допомагають побачити в житті більше світлого, радісного, стати добрішими. До цієї книжки вибрано з пятнадцяти збірок найкращі і найвеселіші - ті, що входять до репертуару народних артистівУкраїни Андрія Сови, Анатолія Паламаренка, Валентина Дуклера, Анатолія Литвинова, Ніли Крюкової, Володимира Калашникова та багатьох інших майстрів сміху.
Status: хорошее
Description of seller: Пересылаю Укрпочтой, Новой почтой по предоплате на карту Приватбанка, или наложенным платежем. Номер телефона 0678742527, 0934826417 Ел.почта vova.andrushenko.78@mail.ru
ORDER FORM
Marked with * is required