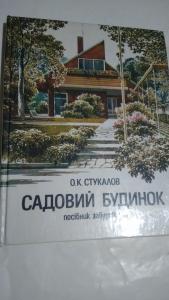 Стукалов О. Садовий будинок. Посібник забудобнику Киев: Урожай. 1991 208s., binding type: hardcover.
Category: Book, journal, almanac
Rubric: Kitchen Garden, garden, house plants; Architecture, Building;
Place of origin of goods: СССР
Language: Ukrainian
Description: Наведено приклади типових та індивідуальних архітектурно-планувальних і конструктивних вирішень літніх садових будинків і господарських будівель, рекомендації щодо їх благоустрою.
Status: Раскол блока, загрязненность обложки
Description of seller: Пересылаю Укрпочтой, Новой почтой по предоплате на карту Приватбанка, или наложенным платежем. Номер телефона 0678742527, 0934826417 Ел.почта vova.andrushenko.78@mail.ru
ORDER FORM
Marked with * is required