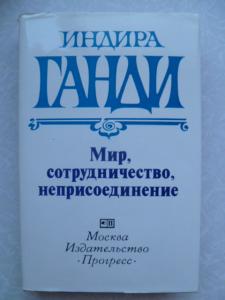 Ганди Индира. Мир, сотрудничество, неприсоединение. 1985 binding type: hardcover.
Category: Book, journal, almanac
Rubric: Biographies, memoirs, pictures: War, Politics, Diplomacy;
Place of origin of goods: Азия
Description: М.: Прогресс, 1985г. 430 с. твердый переплет суперобложка,, Обычный формат. Статьи, речи, интервью о внешней политики Индии и советско-индийских отношениях. 1982-1984
Status: хорошее
(Seller: sevost)
Price 40,00 грн.
ORDER FORM
Marked with * is required