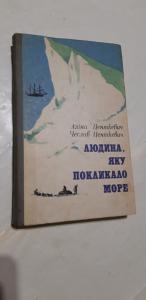 Центкевич А., Центкевич Ч. Людина, яку покликало море Київ: Молодь. 1976 304s., binding type: hardcover.
Category: Book, journal, almanac
Rubric: Travel. Geographical discoveries; Adventure; Ukrainian book series of The Adventures and Science Fiction;
Place of origin of goods: СССР
Language: Ukrainian
Description: Розповідь про видатного норвезького полярного дослідника Раула Амундсена. З його імям повязаний ряд сміливих геграфічних і наукових відкриттів. Він підкорив Північо-Західний прохід, пропливши на невеликому деревяному суденці з Атлантичного океану в Тихий, досяг на лижах та примітивних собачих упряжках Південного полюса, здійснив трансполярну повітряну експедицію на Північний полюс. Ілюстрації на окремих аркушах.
Status: хорошее
Description of seller: Пересылаю Укрпочтой, Новой почтой по предоплате на карту Приватбанка, или наложенным платежем. Номер телефона 0678742527, 0934826417 Ел.почта vova.andrushenko.78@mail.ru
ORDER FORM
Marked with * is required