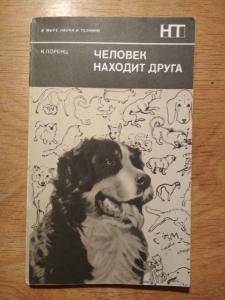 К. Лоренц Человек находит друга Москва: Мир. 1971 162s., binding type: paperback.
Category: Book, journal, almanac
Rubric: Psychology; Biological sciences;
Place of origin of goods: СССР
Language: Russian
Description: Выдающийся ученый ,тонкий наблюдатель и психолог Конрад Лоренц занимательно и живо рассказывает о поведении животных
Status: хорошее
Description of seller: К. Лоренц /1903-1989/ является Нобелевским лауреатом 1973 года в области медицины и физиологии. Он родил- ся в Австрии в Вене. Окончил Венский медицинский университет. Занимался вопросами зоопсихологии.
(Seller: valeri)
Price 55,00 грн.
ORDER FORM
Marked with * is required