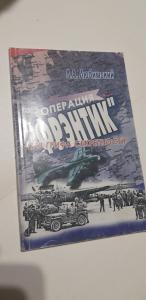 Любимский Л. Операция "Фрэнтик" Київ: Україна. 2004 110s., binding type: paperback.
Category: Book, journal, almanac
Rubric: WW2 The Second World War, 1939-1945.;
Place of origin of goods: Украина
Language: Russian
Description: организация, обеспечение и выполнение армейской авиацией США[1] т. н. челночных боевых вылетов бомбардировочной авиации, действующей с аэродромов в Великобритании, южной Италии и СССР. Время проведения операции — июнь-сентябрь 1944 года.
Status: штамп
Description of seller: Пересылаю Укрпочтой, Новой почтой по предоплате на карту Приватбанка, или наложенным платежем. Номер телефона 0678742527, 0934826417 Ел.почта vova.andrushenko.78@mail.ru
ORDER FORM
Marked with * is required