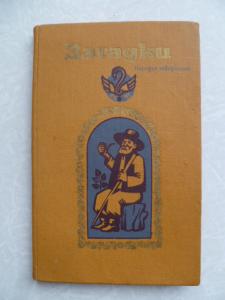 Загадки. Народна творчість.  1987 binding type: hardcover.
Category: Book, journal, almanac
Rubric: Other;
Place of origin of goods: Азия
Description: На украинском языке. Бібліотека української усної народної творчості. Упоряд., передм. І. Березовського. Ілюстрації Г. Ковпаненка. К. Дніпро 1987г. 158 с., илл. Палiтурка / переплет: твердый, обычный формат. До збірки увійшли українські загадки про явища природи, рослинний і тваринний світ, господарської, духовного життя людей. У них відображається народна мудрість, знання багатьох поколінь.
(Seller: sevost)
Price 20,00 грн.
ORDER FORM
Marked with * is required