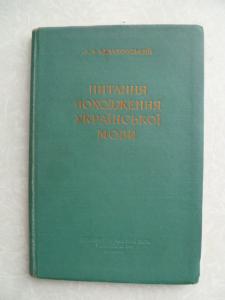 Булаховський, Л. А. Питання походження української мови. 1956 binding type: hardcover.
Category: Book, journal, almanac
Rubric: Linguistics. Ukrainian language;
Place of origin of goods: Азия
Description: – К. : Вид-во АН УРСР, 1956. – 220 с. Обкладнинка: Тверда. Стан: дуже добрий. Булаховський Л.А. – мовознавець, академік. Монографія з'явилася на основі тривалого й глибокого вивчення автором фактів історії української мови. У ній дано вичерпні для того часу відповіді на такі кардинальні для україністики питання, як мова Києва й Київщини, риси української мови в пам'ятках різних століть, час формування української мови та ін. Розкрито й перші етапи формування української літературної мови. Значне місце в книжці займає висвітлення зв'язків української мови з іншими слов'янськими, зокрема з білоруською.
Status: следы карандаша
(Seller: sevost)
Price 50,00 грн.
ORDER FORM
Marked with * is required