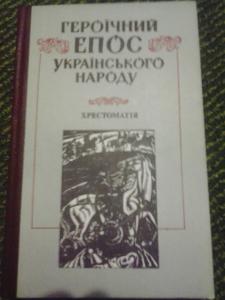 Героїчний епос українського народу Київ: Либідь. 1993 432s., binding type: hardcover.
Category: Book, journal, almanac
Rubric: Ukrainistics; Poetry to the XX century.; Ethnography and history of Slavic nations;
Place of origin of goods: Украина
Description: Хрестоматія. Навчальний посібник. Упорядник О.Таланчук Зміст Колядки Думи Історичні пісні Легенди, перекази казки Стрілецькі пісні
Status: Хорошое.
Description of seller: Пересылаю Укрпочтой, Новой почтой по предоплате на карту Приватбанка, или наложенным платежем. Номер телефона 0678742527, 0934826417 Ел.почта vova.andrushenko.78@mail.ru
ORDER FORM
Marked with * is required