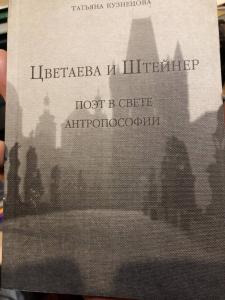 Татьяна Кузнецова (Tatyana Kuznetsova) Цветаева и Штейнер. Поэт в свете антропософии. (Tsvetaeva and Steiner. The poet in the light of anthroposophy.) Москва: Присцельс. 1996 156s., binding type: paperback.
Category: Book, journal, almanac
Rubric: Newest time philosophy - Western philosophy. (XX-XXI centuries).; Biographies, memoirs, images: Literature; Prose, poetry, drama and other arts of the Silver Age of Russian Culture 1900-1922 years.;
Place of origin of goods: Россия
Language: Russian
Description: Сопоставляются личности поэта и философа и прослеживается перекличка их идей и мыслей. В предисловии излагаются краткие сведения о духовных поисках в России в начале нашего столетия и связи личности Рудольфа Штейнера с русской культурой этого периода. Приводится фактический материал, позволяющий судить об их встрече в Праге в 1923 году. В приложении дана более ранняя работа Т.В. Кузнецовой «Верьте музыке...». The personalities of the poet and the philosopher are compared and the resemblance of their ideas and thoughts is traced. The preface contains brief information about the spiritual searches in Russia at the beginning of our century and the connection between the personality of Rudolf Steiner and the Russian culture of this period. The factual material is given, which makes it possible to judge their meeting in Prague in 1923. The appendix contains an earlier work by T.V. Kuznetsova "Believe the music...".
Status: Очень хорошее. Экслибрис, номер домашней библиотеки.
ORDER FORM
Marked with * is required