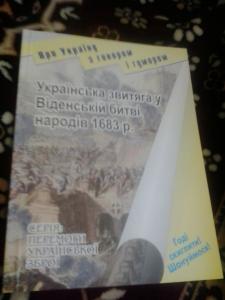 Чухліб Т. Українська звитяга у Віденській битві народів 1683 р Київ: Н.Брехуненко. 2013 64s., binding type: paperback.
Category: Book, journal, almanac
Rubric: History of Ukraine;
Place of origin of goods: Украина
Description: У книзі у науково-популярному стилі висвітлюється участь українців у Віденській битві - одному з найбільших військово-політичних конфліктів ранньомодерної історії світу. 12 вересня 1683 року у битві з вояками Османської імперії за тогочасну політичну столицю Європи, місто Відень, козаки, шляхтичі, міщани, селяни та навіть ченці і священики з України (Львівщини, Белзчини, Холмщини, Піддашшя, Тернопілля, Волині, Поділля, Київщини, Чернігівщини) складали 2/3 війська на чолі з королем Речі Посполитої Яном III Собеським та зробили величезний внесок в історичну перемогу над турецько-татарським військом. А блискучий рейд українських козаків під орудою гетьмана Степана Куницького до Молдови та Придунав\'я восени 1683 р. з оволодінням фортецями Кілія та Ізмаїл прогримів на всю Європу, викликавши непідробне захоплення.
Status: Хорошее
Description of seller: Пересылаю Укрпочтой, Новой почтой по предоплате на карту Приватбанка, или наложенным платежем. Номер телефона 0678742527, 0934826417 Ел.почта vova.andrushenko.78@mail.ru
ORDER FORM
Marked with * is required