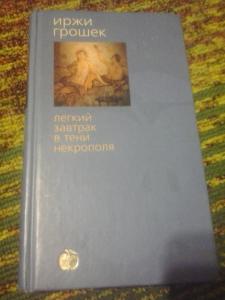 Грошек И. Легкий завтрак в тени некрополя Санкт-Петербург: Азбука Классики. 2002 382s., binding type: hardcover.
Category: Book, journal, almanac
Rubric: Prose XX-XXI centuries. in Russian translation;
Place of origin of goods: Россия
Description: От издателя Популярный роман видного чешского писателя, критика и кинематографиста, первый в предполагаемой трилогии. Книга стала в Чехии бестселлером, переведена на восемь европейских языков, готовится экранизация. Роман построен, как яркая мозаика, где бок о бок существуют императорский Рим и современная Прага, модный кинорежиссер и Валерия Мессалина...
Status: Чуть потертый корешок
Description of seller: Пересылаю Укрпочтой, Новой почтой по предоплате на карту Приватбанка, или наложенным платежем. Номер телефона 0678742527, 0934826417 Ел.почта vova.andrushenko.78@mail.ru
ORDER FORM
Marked with * is required