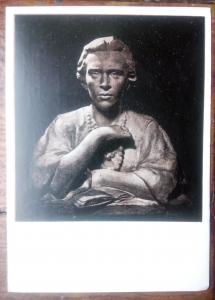 Леся Українка (Lesya Ukrainka) Київ: Держ. видав. образотв. мист. і муз. літ. УРСР. 1957 binding type: without binding(or an object that never had a binding).
Category: Postcard
Place of origin of goods: СССР
Description: Поштова листівка з фотозображенням гіпсового бюсту Лесі Українки. Скульптор Т. О. Державіна. Postcard with photographic image of Lesya Ukrainka. Gypsum. Sculptor T. O. Derzhavina. The price of this postcard is $ 20.
Status: у доброму стані, сліди олівцевого напису на зворотній стороні внизу, мінімальне пошкодження двох кутів in a good condition, traces of a pencil drawing on the reverse side below, a minimum damage of two corners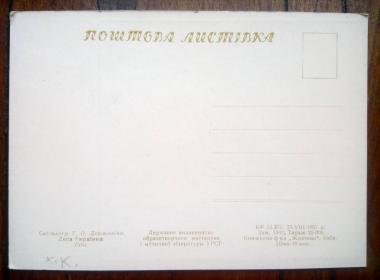 ORDER FORM
Marked with * is required