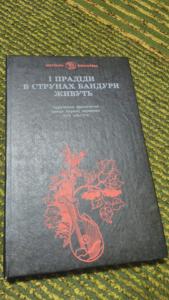 І прадіди в струнах бандури живуть Київ: Веселка. 1995 240s., binding type: hardcover.
Category: Book, journal, almanac
Rubric: Poetry to the XX century.; WW2 The Second World War, 1939-1945.;
Place of origin of goods: Украина
Description: Не потьмяніли з часом барви української романтичної поезії, яка завжди несла в собі великий заряд духовності й краси. Творчість поетів-романтиків першої половини XIX ст. відіграла виняткову роль у становленні нової української літератури. Саме на її грунті зріс могутній талант Тараса Шевченка, котрий започаткував нову добу в розвитку національної культури. До збірника ввійшли кращі ліричні та ліро-епічні твори десяти поетів-романтиків — Левка Боровиковського, Амвросія Метлинського, Миколи Костомарова, Маркіяна Шашкевича, Івана Вагилевича, Якова Головацького, Олександра Афанасьева-Чужбинського, Віктора Забіли, Михайла Петренка, Олександра Корсуна.
Status: Штамп
Description of seller: Пересылаю Укрпочтой, Новой почтой по предоплате на карту Приватбанка, или наложенным платежем. Номер телефона 0678742527, 0934826417 Ел.почта vova.andrushenko.78@mail.ru
ORDER FORM
Marked with * is required