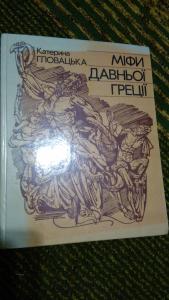 Гловацька К. Міфи Давньої Греції Київ: Веселка. 1986 240s., binding type: hardcover.
Category: Book, journal, almanac
Rubric: Religion: Other Religions and Cults; History of Ancient Greece and Rome; Children`s literature: cognitive, teaching, developing;
Place of origin of goods: СССР
Description: Збірник включає найпоширеніші і найпопулярніші міфи Давної Греції у переказі для учнів середнього та старшого шкільного віку. Слово «антична» в перекладі з латинської (antigues) означає «давня». Античну міфологію разом із біблейською по праву вважають найбільш значними за мірою впливу на подальший розвиток культури багатьох народів, особливо європейських.
Status: Хорошее
Description of seller: Пересылаю Укрпочтой, Новой почтой по предоплате на карту Приватбанка, или наложенным платежем. Номер телефона 0678742527, 0934826417 Ел.почта vova.andrushenko.78@mail.ru
ORDER FORM
Marked with * is required