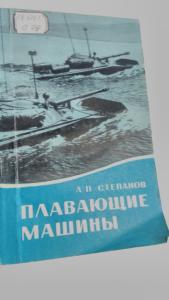 Степанов А. Плавающие машины Москва: ДОСААФ. 1971 168s., binding type: paperback.
Category: Book, journal, almanac
Rubric: Military themes; The history of arms of the service; Warfare: Theory and Practice, tactics and strategy;
Place of origin of goods: СССР
Description: В книге кратко рассказывается об истории плавающих машин, характеристика. Даются общие понятия по вождению.
Status: Штамп.
Description of seller: Пересылаю Укрпочтой, Новой почтой по предоплате на карту Приватбанка, или наложенным платежем. Номер телефона 0678742527, 0934826417 Ел.почта vova.andrushenko.78@mail.ru
ORDER FORM
Marked with * is required