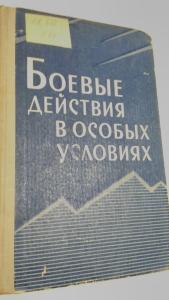 Воробьев И. и др Боевые действия в особых условиях (в горах, пустынях, северных районах) Москва: Военное издательство. 1967 174s., binding type: hardcover.
Category: Book, journal, almanac
Rubric: Warfare:Other; Military themes; Warfare: Theory and Practice, tactics and strategy;
Place of origin of goods: СССР
Language: Russian
Description: Изложены основные положения по боевым действиям мотострелковых и танковых подразделений в горах, пустынях и северных районах.
Status: Штамп
Description of seller: Пересылаю Укрпочтой, Новой почтой по предоплате на карту Приватбанка, или наложенным платежем. Номер телефона 0678742527, 0934826417 Ел.почта vova.andrushenko.78@mail.ru
ORDER FORM
Marked with * is required