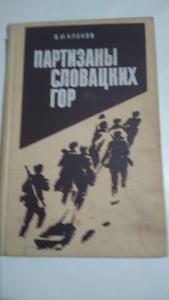 Клоков В. Партизаны Словацких гор Киев: Издательство политической литературы. 1986 272s., binding type: hardcover.
Category: Book, journal, almanac
Rubric: Biographies, memoirs, pictures: War, Politics, Diplomacy; WW2 The Second World War, 1939-1945.;
Place of origin of goods: СССР
Language: Russian
Description: Автор - бывший начальник штаба Словацкой партизанской бригады им. Яна Жижки, а затем комиссар интернационального соединения им. Суворова, Герой Сов. Союза, историк, член-корреспондент АН Украины. В книге им воссозданы напряженные дни Словацкого национального восстания 1944 г., образы советских партизан и патриотов Словакии, боровшихся вместе против фашизма.
Status: Потертость обложки
Description of seller: Пересылаю Укрпочтой, Новой почтой по предоплате на карту Приватбанка, или наложенным платежем. Номер телефона 0678742527, 0934826417 Ел.почта vova.andrushenko.78@mail.ru
ORDER FORM
Marked with * is required