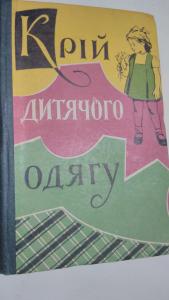 Головніна М. і др Крій дитячого одягу Киев: Держтехвидав. 1959 280s., binding type: hardcover.
Category: Book, journal, almanac
Rubric: Light industry; Fashion, Beauty, Needlework;
Place of origin of goods: СССР
Language: Ukrainian
Description: Мета цієї книги - допомогти жінці-матері навчитися самостійно кроїти і шити одяг своїм дітям. В окремому розділі книги викладено методи розробки викройок дитячого плаття різних фасонів по основних викройках. Крім того, розроблені викройки карнавальних костюмів, призначених для новорічних та весняних свят.
Status: хорошее
Description of seller: Пересылаю Укрпочтой, Новой почтой по предоплате на карту Приватбанка, или наложенным платежем. Номер телефона 0678742527, 0934826417 Ел.почта vova.andrushenko.78@mail.ru
ORDER FORM
Marked with * is required