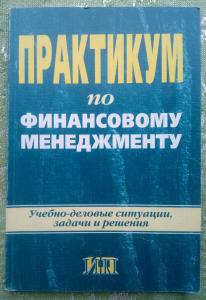 под ред. Стояновой Е. С. Практикум по финансовому менеджменту: учебно-деловые ситуации, задачи и решения Москва: "Перспектива". 1997 140s., binding type: paperback.
Category: Book, journal, almanac
Rubric: Business, Management, Marketing; Banking, Finance and Accounting; Textbooks and manuals for students;
Place of origin of goods: Россия
Language: Russian
Description: Содержит учебно-деловые ситуации по управлению финансами предприятия, задания с комментариямии подробными аргументированными решениями. Для руководителей предприятий, финансовых менеджеров и консультантов, экономистов, преподавателей и студентов экономических вузов.
Status: хорошее
ORDER FORM
Marked with * is required