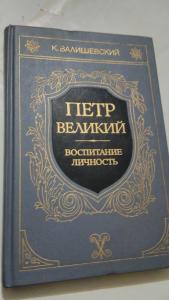 Валишевский К. Петр Великий. Воспитание. Личность. Москва: ИКПА. 1990 424s., binding type: hardcover.
Category: Book, journal, almanac
Rubric: History of Russia; Biographies, memoirs, pictures: War, Politics, Diplomacy; Facsimile reprint;
Place of origin of goods: СССР
Language: Russian
Description: Монография \"Петр Великий\" написана на основе большого количества малоизвестного фактического материала и состоит из трех частей - \"Воспитание\", \"Личность\" и \"Дело\". В данную книгу вошли первые две части. Репринтное воспроизведение издания 1911 года.
Status: Хорошее
Description of seller: Пересылаю Укрпочтой, Новой почтой по предоплате на карту Приватбанка, или наложенным платежем. Номер телефона 0678742527, 0934826417 Ел.почта vova.andrushenko.78@mail.ru
ORDER FORM
Marked with * is required