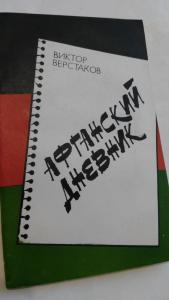 Верстаков В. Афганский дневник Москва: Военное издательство. 1983 141s., binding type: paperback.
Category: Book, journal, almanac
Rubric: Russian prose of XX-XXI centuries.;
Place of origin of goods: СССР
Language: Russian
Description: На основе личных впечатлений корреспондент «Правды» написал цикл литературно-художественных очерков о советских воинах, выполняющих интернациональный долг на земле Афганистана.
Status: хорошее
Description of seller: Пересылаю Укрпочтой, Новой почтой по предоплате на карту Приватбанка, или наложенным платежем. Номер телефона 0678742527, 0934826417 Ел.почта vova.andrushenko.78@mail.ru
ORDER FORM
Marked with * is required