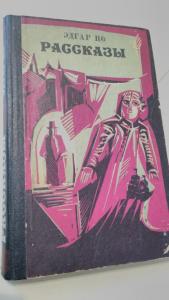 По Э. Рассказы Львів: Вища школа. 1985 254s., binding type: hardcover.
Category: Book, journal, almanac
Rubric: Prose of the XIX century in the Russian translation;
Place of origin of goods: СССР
Language: Russian
Description: Эдгар По - выдающийся американский писатель. В кни­гу включены самые популярные его рассказы, охватыва­ющие все этапы творчества, такие, как "Золотой жук", "Лигейя", "Убийство на улице Морг" и др.
Status: Потертость обложки
Description of seller: Пересылаю Укрпочтой, Новой почтой по предоплате на карту Приватбанка, или наложенным платежем. Номер телефона 0678742527, 0934826417 Ел.почта vova.andrushenko.78@mail.ru
ORDER FORM
Marked with * is required