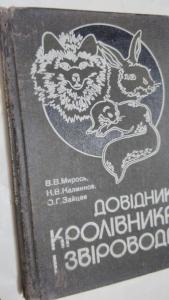 Мирось В. і др Довідник кролівника і звіровода Київ: Урожай. 1990 256s., binding type: hardcover.
Category: Book, journal, almanac
Rubric: Agriculture; Animals (wild and domestic);
Place of origin of goods: СССР
Language: Ukrainian
Description: Наведено відомості про розведення, годівлі, утриманні кролів і хутрових звірів, нові норми проектування кролячих та звірівницьких ферм, ветеринарно-санітарні заходи на фермах і в господарствах звіроводам-любителів. Перевидання (попереднє вийшло у 1980 р.) доповнено розділами про розведення нових видів звірів: тхорів, червоних лисиць, єнотовидного собаки. Довідник розрахований на фахівців кролячих та звірівницьких господарств, буде корисним для кролівників і звіроводам-любителям.
Status: потертость обложки
Description of seller: Пересылаю Укрпочтой, Новой почтой по предоплате на карту Приватбанка, или наложенным платежем. Номер телефона 0678742527, 0934826417 Ел.почта vova.andrushenko.78@mail.ru
ORDER FORM
Marked with * is required