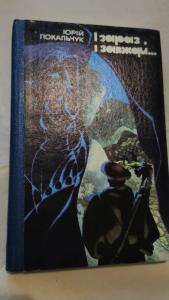 Покальчук Ю. І зараз, і завжди... Київ: Радянський письменник. 1981 224s., binding type: hardcover.
Category: Book, journal, almanac
Rubric: Ukrainian prose of XX-XXI centuries.; Adventure;
Place of origin of goods: СССР
Language: Ukrainian
Description: Молодий підпільник з Волині Андрій Школа опинившись у катівнях польської дефензиви, з групою комуністів організував утечу, став бійцем-інтербригадівцем у Іспанії. У роки другої світової війни він воював у партизанському загоні, був нагороджений французьким урядом. Потім із другом Пако приїхав на Радянську Україну...
Status: хорошее
Description of seller: Пересылаю Укрпочтой, Новой почтой по предоплате на карту Приватбанка, или наложенным платежем. Номер телефона 0678742527, 0934826417 Ел.почта vova.andrushenko.78@mail.ru
ORDER FORM
Marked with * is required