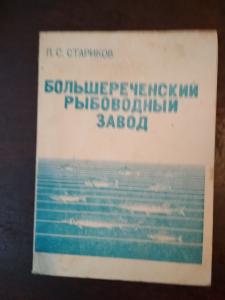 П.С. Стариков Большереченский рыбоводный завод Улан-Уде: Бурятское книжное издательство. 1989 56s., binding type: paperback.
Category: Book, journal, almanac
Rubric: Biological sciences; Other natural sciences; Industry, production;
Place of origin of goods: СССР
Language: Russian
Description: Искусственное заводское разведение байкальского омуля осуществляется с 1933 года на реке Большая Речка,впадающей в Посольский сор.
Status: хорошее. несколько загрязнена обложка
Description of seller: тираж 1000 экземпляров. В брошюре описаны все этапы искусственого разведения рыб. Что применимо к рыбам любого вида
(Seller: valeri)
Price 350,00 грн.
ORDER FORM
Marked with * is required