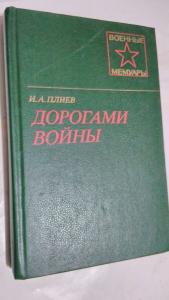 Плиев И. Дорогами войны Москва: Книга. 1985 368s., binding type: hardcover.
Category: Book, journal, almanac
Rubric: Military themes; Biographies, memoirs, pictures: War, Politics, Diplomacy; WW2 The Second World War, 1939-1945.;
Place of origin of goods: СССР
Language: Russian
Description: Автор, командовавший в годы Великой Отечественной войны конно-механизированной группой, описывает бои за города Новый Буг, Раздельная, Одесса, повествует об участии советских войск в освобождении Венгрии, Румынии, Чехословакии, рассказывает о разгроме в августе—сентябре 1945 года главных японских сухопутных сил — Квантунской армии. Для широкого круга читателей.
Status: хорошее
Description of seller: Пересылаю Укрпочтой, Новой почтой по предоплате на карту Приватбанка, или наложенным платежем. Номер телефона 0678742527, 0934826417 Ел.почта vova.andrushenko.78@mail.ru
ORDER FORM
Marked with * is required