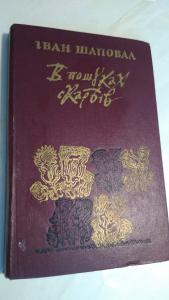 Шаповал І. В пошуках скарбів Київ: Дніпро. 1983 326s., binding type: hardcover.
Category: Book, journal, almanac
Rubric: Biographies, memoirs, images: Science; History and everyday life the Cossacks;
Place of origin of goods: СССР
Language: Ukrainian
Description: Український письменник в своїх документальних оповіданнях, обєднаних єдиним сюжетом, розповідає про життя і творчу діяльність невтомного археолога, історика, етнографа, фольклориста і письменника Дмитра Івановича Яворницького, про його дружні взаємзвязки з видатними діячами літератури і мистецтва - Л.М. Толстим, Лесею Українкою, І.Ю. Рєпіним, М.В. Лисенко та ін.
Status: Хорошее
Description of seller: Пересылаю Укрпочтой, Новой почтой по предоплате на карту Приватбанка, или наложенным платежем. Номер телефона 0678742527, 0934826417 Ел.почта vova.andrushenko.78@mail.ru
ORDER FORM
Marked with * is required