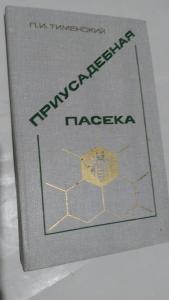 Тименский П. Приусадебная пасека Москва: Агропромиздат. 1988 370s., binding type: hardcover.
Category: Book, journal, almanac
Rubric: Agriculture;
Place of origin of goods: СССР
Language: Russian
Description: В книге в популярной форме рассказывается о многовековой истории пчеловодства, мире пчел, приемах управления ими при использовании на медосборе и опылении сельскохозяйственных культур. Освещены вопросы содержания, разведения пчелиных семей, ухода за ними. Описаны основные болезни, вредители пчел и меры борьбы с ними. Для пчеловодов-любителей.
Status: хорошее
Description of seller: Пересылаю Укрпочтой, Новой почтой по предоплате на карту Приватбанка, или наложенным платежем. Номер телефона 0678742527, 0934826417 Ел.почта vova.andrushenko.78@mail.ru
ORDER FORM
Marked with * is required