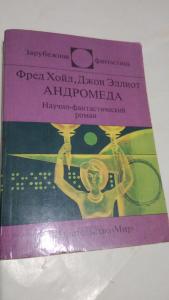 Хойл Ф., Эллиот Дж. Андромеда Москва: Мир. 1991 336s., binding type: paperback.
Category: Book, journal, almanac
Rubric: Fantasy;
Place of origin of goods: СССР
Language: Russian
Description: Научно-фантастический роман крупного английского астрофизика и известного писателя-фантаста Фреда Хойла и Дж. Эллиота, посвящённый контакту с внеземными цивилизациями. Предисловие И. Шкловского. Перевод с английского Г. С. Хромова.
Status: хорошее
Description of seller: Пересылаю Укрпочтой, Новой почтой по предоплате на карту Приватбанка, или наложенным платежем. Номер телефона 0678742527, 0934826417 Ел.почта vova.andrushenko.78@mail.ru
ORDER FORM
Marked with * is required