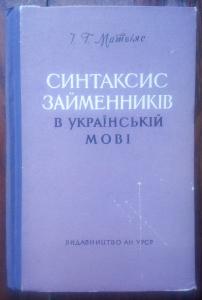 Матвіяс І. Г. Синтаксис займенників в українській мові Київ: Видавництво АН УССР. 1962 132s., binding type: hardcover.
Category: Book, journal, almanac
Rubric: Ukrainistics; Linguistics. Ukrainian language;
Place of origin of goods: СССР
Language: Ukrainian
Description: У монографії розглядаються численні синтаксичні конструкції, складовими елементами яких виступають займенники - категорія слів з особливою семантико-граматичною природою; висвітлюється проміжний або перехідний характер займенників у системі частин мови, в класі самостійних і службових слів, у групі змінних і незмінних частин мови; визначається стилістичне багатство займенникових структур. Спостереження і висновки зроблені на основі даних художньої і публіцистичної літератури від Котляревського до наших днів, а також фольклору.
Status: у дуже доброму стані, незначні подряпини на передній кришці
ORDER FORM
Marked with * is required