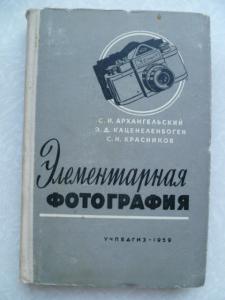 Архангельский С.И., Каценеленбоген Э.Д., Красников С.Н. Элементарная фотография. 1959 binding type: hardcover.
Category: Book, journal, almanac
Rubric: Photographic technique and everything connected with the process of photographing;
Place of origin of goods: Азия
Description: Учебное пособие для пединститутов. М. Учпедгиз 1959г. 320 с. Настоящий курс элементарной фотографии ставит задачей дать студентам пединститутов основы теории и практики фотографии.Расчитан на студентов физического отделения физико-математических факультетов. Объектив, фотоаппарат, свойства метериалов, фотосъемка, негативные и позитивный процесс, специальные виды съемки, организация и работа фотокружка в школе.
(Seller: sevost)
Price 50,00 грн.
ORDER FORM
Marked with * is required