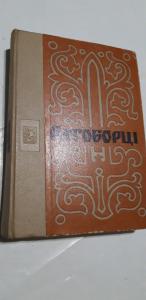 Югов О. Ратоборці Львів: Каменяр. 1973 512s., binding type: hardcover.
Category: Book, journal, almanac
Rubric: Prose XX-XXI centuries. in Ukrainian language; Russian prose of XX-XXI centuries.; Historical novels;
Place of origin of goods: СССР
Language: Russian
Description: Югов Олексій. Ратоборці (Данило Галицький. Олександр Невський). Епопея у двох книгах. Видання друге. Переклад з російської Т.Одудько. Худ. оформлення М.Курилича. Львів Каменяр 1973р. 512 с., іл., палiтурка тверда, трохи збільшений формат, стан добрий (потертості палітурки). Ціна 35 грн. Епопея складається з двох романів - «Данило Галицький» і «Олександр Невський». Вони повязані між собою як єдністю часу дії, так і єдиної завданням - поваленням монголо-татарського ярма і відображенням навали лицарів-псів, шведів з Заходу, підбурюваних до боротьби з Руссю папою римським.
Status: хорошее
Description of seller: Пересылаю Укрпочтой, Новой почтой по предоплате на карту Приватбанка, или наложенным платежем. Номер телефона 0678742527, 0934826417 Ел.почта vova.andrushenko.78@mail.ru
ORDER FORM
Marked with * is required