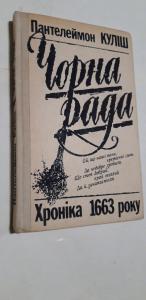 Куліш П. Чорна рада Харьків: Основа. 1990 272s., binding type: hardcover.
Category: Book, journal, almanac
Rubric: Ukrainian prose to the XX century.; Historical novels;
Place of origin of goods: СССР
Language: Ukrainian
Description: "Чорна рада" Пантелеймона Куліша - перший український історичний роман. У творі автор відобразив одну з трагічних сторінок минулого України, а саме сумнозвісну Чорну раду, яка відбулася 1663 року. У романі змальовані як реальні історичні постаті, так і вигадані Кулішем романтичні образи - представники простого люду, козацтва. Роман насичений пригодницькими елементами і не втрачає популярності ось уже понад півтора століття. Адресовано широкому читацькому загалу.
Status: хорошее
Description of seller: Пересылаю Укрпочтой, Новой почтой по предоплате на карту Приватбанка, или наложенным платежем. Номер телефона 0678742527, 0934826417 Ел.почта vova.andrushenko.78@mail.ru
ORDER FORM
Marked with * is required