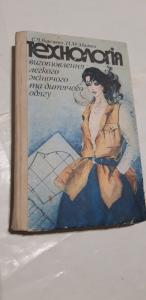 Борецька Є., Малюга П. Технологія виготовлення легкого жіночого та дитячого одягу Київ: Вища школа. 1991 367s., binding type: hardcover.
Category: Book, journal, almanac
Rubric: Light industry;
Place of origin of goods: СССР
Language: Ukrainian
Description: Показано способи, технічні умови обробки деталей і вузлів одягу. Описано прийоми підготовки виробів для першої і другої примірок, а також остаточну обробку деталей. Розроблено моделі легкого жіночого і дитячого плаття. Наведено креслення викрійок, специфікацію деталей, розкладки, витрати тканини, особливості технологічної обробки кожної моделі. Для учнів професійно-технічних училищ. Може бути корисним широкому колу читачів.
Status: хорошее
Description of seller: Пересылаю Укрпочтой, Новой почтой по предоплате на карту Приватбанка, или наложенным платежем. Номер телефона 0678742527, 0934826417 Ел.почта vova.andrushenko.78@mail.ru
ORDER FORM
Marked with * is required