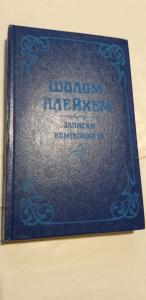 Шолом-Алейхем Записки комівояжера Київ: Дніпро. 1983 310s., binding type: hardcover.
Category: Book, journal, almanac
Rubric: Prose of the XIX century in Ukrainian language;
Place of origin of goods: СССР
Language: Ukrainian
Description: До однотомника класика єврейської літератури ввійшли повісті та оповідання з книг Веселі бідняки, Залізничні історії (Записки комівояжера), Монологи, Оповідання для дітей. Основна тема цих творів - тяжке життя єврейського трудового народу, поневіряння `маленької` людини, яка марно намагається вибитися з віковічних злиднів.
Status: хорошее
Description of seller: Пересылаю Укрпочтой, Новой почтой по предоплате на карту Приватбанка, или наложенным платежем. Номер телефона 0678742527, 0934826417 Ел.почта [email protected]
ORDER FORM
Marked with * is required