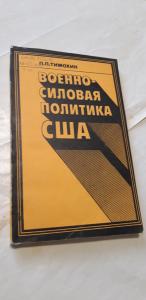 Тимохин П. Военно-силовая политика США Москва: Военное издательство. 1987 206s., binding type: paperback.
Category: Book, journal, almanac
Rubric: Military themes; History of other states and nations;
Place of origin of goods: СССР
Language: Russian
Description: На конкретных примерах в книге разоблачается империалистический характер использования военной силы Соединенными Штатами Америки, показываются авантюризм и опасность для дела мира нынешнего военно-политического курса Вашингтона. Автор раскрывает реакционную сущность современных буржуазных теорий военной силы.
Status: Штамп
Description of seller: Пересылаю Укрпочтой, Новой почтой по предоплате на карту Приватбанка, или наложенным платежем. Номер телефона 0678742527, 0934826417 Ел.почта vova.andrushenko.78@mail.ru
ORDER FORM
Marked with * is required