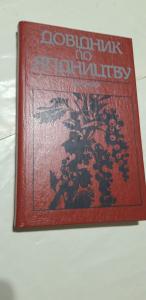 Марковський В. Довідник по ягідництву Київ: Урожай. 1989 224s., binding type: hardcover.
Category: Book, journal, almanac
Rubric: Agriculture; Kitchen Garden, garden, house plants;
Place of origin of goods: СССР
Language: Ukrainian
Description: Вміщено відомості про кращі сорти, способи розмноження і вирощування садивного матеріалу, закладення промислових насаджень. Викладено агротехніку суниці, смородини, агрусу, заходи по одержанню ранньої продукції, вирощування суниці в закритому грунті, малопоширених ягідних культур, організацію і оплату праці, економіку галузі, засоби механіхації виробничих процесів.
Status: хорошее
Description of seller: Пересылаю Укрпочтой, Новой почтой по предоплате на карту Приватбанка, или наложенным платежем. Номер телефона 0678742527, 0934826417 Ел.почта vova.andrushenko.78@mail.ru
ORDER FORM
Marked with * is required