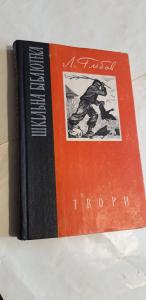 Глібов Л. Твори Київ: Дніпро. 1967 264s., binding type: hardcover.
Category: Book, journal, almanac
Rubric: Poetry to the XX century.;
Place of origin of goods: СССР
Language: Ukrainian
Description: До однотомника творів видатного українського поета-байкаря ввійшли байки, лірика, вірші-загадки і акростихи для дітей, а також п'єса "До мирового" (жарт на одну дію).
Status: порисован задний форзац
Description of seller: Пересылаю Укрпочтой, Новой почтой по предоплате на карту Приватбанка, или наложенным платежем. Номер телефона 0678742527, 0934826417 Ел.почта vova.andrushenko.78@mail.ru
ORDER FORM
Marked with * is required