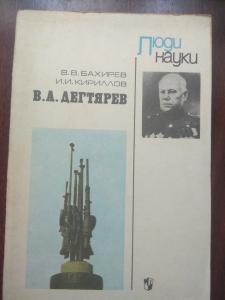 В. В. Бахирев, И. И. Кириллов В. А. Дегтярев Москва: Просвещение. 1987 144s., binding type: paperback.
Category: Book, journal, almanac
Rubric: Biographies, memoirs, images: Science;
Place of origin of goods: СССР
Language: Russian
Description of seller: В книге рассказывается о жизни и деятельности выдающегося советского конструктора автоматического стрелкового оружия В.А.Дегтярева, об истории создания и развития этого вида вооружения, о производстве стрелкового оружия для Советской Армии на Ковровском заводе. изд. 3-е. 144 с. Серия Люди науки
(Seller: Olenka)
Price 25,00 грн.
ORDER FORM
Marked with * is required