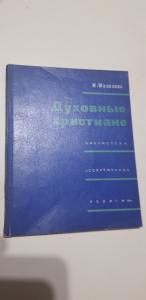 Малахова И. Духовные христиане Москва: Издательство политической литературы. 1970 128s., binding type: paperback.
Category: Book, journal, almanac
Rubric: Religion: Christianity;
Place of origin of goods: СССР
Language: Russian
Description: Книга посвящена критическому анализу идеологии группы христианских сект. Автор рассказывает об истории этих сект, их эволюции и современном положении. Анализу подвергаются нравственные принципы "духовных христиан", модернистские тенденции.
Status: хорошее
Description of seller: Пересылаю Укрпочтой, Новой почтой по предоплате на карту Приватбанка, или наложенным платежем. Номер телефона 0678742527, 0934826417 Ел.почта vova.andrushenko.78@mail.ru
ORDER FORM
Marked with * is required