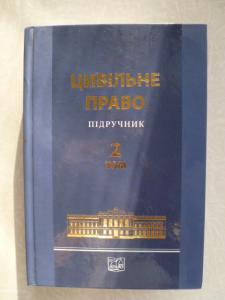 Борисова В.I., Спасибо-Фатєєва I.В., Яроцький В.Л. Цивільне право України.Підручник.Том 2 2011 binding type: hardcover.
Category: Book, journal, almanac
Rubric: Legislation Law;
Place of origin of goods: Азия
Description: У другому томі підручника висвітлюються загальні положення про договір, про зобов'язання та їх окремі види - договірні та недоговірні. Для студентів, аспірантів і викладачів вищих навчальних юридичних закладів освіти, а також наукових і практичних працівників. Борисова В.I., Спасибо-Фатєєва I.В., Яроцький В.Л. 2011 р.
(Seller: sevost)
Price 100,00 грн.
ORDER FORM
Marked with * is required