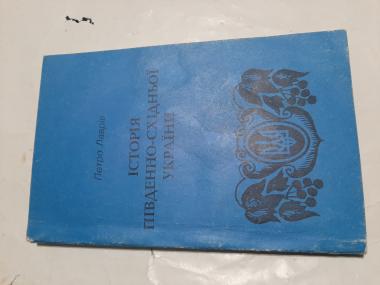 Лаврів П. Історія Південно-Східної України Київ: Українська видавнича спілка. 1996 204s., binding type: hardcover.
Category: Book, journal, almanac
Rubric: History of Ukraine;
Place of origin of goods: Украина
Language: Ukrainian
Description: Наукове видання стирає ще одну 'білу пляму' в історії української землі між долішніми течіями Дону, Дніпра та суміжними територіями, населення яких з сивої давнини активно впливало на розвиток подій у південно-східних регіонах України. Розкривається положення й історична доля різних племен і народів, які жили й кочували в Приазовї. Окремі розділи присвячено запорізьким і донським козакам, колонізації лівобережних степів після зруйнування Росією Запорізької Січі. Докладний огляд подій жовтневого перевороту 1917 р. і радянського періоду історії краю створює цілісну картину пережитого народами, які живуть і працюють на цій землі.
Status: Невелике пятно на обложці
Description of seller: Пересылаю Укрпочтой, Новой почтой по предоплате на карту Приватбанка, или наложенным платежем. Номер телефона 0678742527, 0934826417 Ел.почта vova.andrushenko.78@mail.ru
ORDER FORM
Marked with * is required