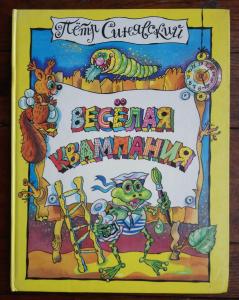 Синявский Пётр Весёлая квампания Москва: "Кристина и Ольга". 1996 56s., binding type: hardcover.
Category: Book, journal, almanac
Rubric: Children`s Literature: Stories, poems and fables; Children`s Books: Illustrated Books for Kids;
Place of origin of goods: Россия
Language: Russian
Description: Стихи для дошкольного и младшего школьного возраста. Художник Наталья Синёва. Полностраничные цветные иллюстрации. Формат увеличенный: 22 х 28 х 0,7 см.
Status: наполовину оторван и немного подорван по краю лист форзаца, в остальном хорошее
ORDER FORM
Marked with * is required