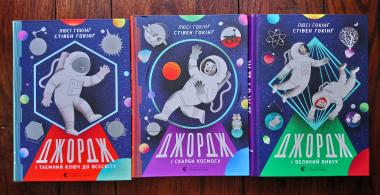 Гокінґ Люсі, Гокінґ Стівен Джордж і таємний ключ до Всесвіту. Джордж і скарби космосу. Джордж і Великий вибух. Львів: Видавництво Старого Лева. 2016 1024s., binding type: hardcover.
Category: Book, journal, almanac
Rubric: Physics; Astronautics, Astronomy, Space science; Children`s literature: cognitive, teaching, developing;
Place of origin of goods: Украина
Language: Ukrainian
Description: Для середнього шкільного віку. З англійської переклала Ганна Лелів. Ілюстрації Ґаррі Парсонза. Три перших романа з науково-популярної пригодницької серії, написані всесвітньо відомим фізиком-теоретиком і його донькою, письменницею та популяризатором науки ("Джордж і таємний ключ до Всесвіту" - в співпраці з Крістофом Ґальфаром. Кольорові та чорно-білі ілюстрації. Формат кожної з трьох книжок: 15 х 20,5 х 2 см .
Status: дуже добрий
ORDER FORM
Marked with * is required