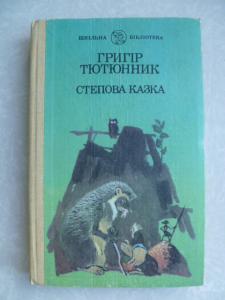 Г.Тютюнник Степова казка 1990 binding type: hardcover.
Category: Book, journal, almanac
Rubric: Children`s Literature: Stories, poems and fables;
Place of origin of goods: Азия
Description: Тютюнник Гр. Степова казка Київ: Веселка. 1990г. 302с., тип переплета: твердый переплет. Описание: До книжки українського радянського письменняка Григора Тютюнника (1931 — 1980), лауреата Державної премії УРСР імені Т. Г. Шевченка та Республіканської літературної премії імені Лесі Українки, увійшли казки, оповідання і повісті про рідну природу, про людей, які її оберігають, про долю дітей у роки Великої Вітчизняної війни і в повоєний час. Худож. В. А. Євдокименко. Состояние: Хорошее
(Seller: sevost)
Price 30,00 грн.
ORDER FORM
Marked with * is required