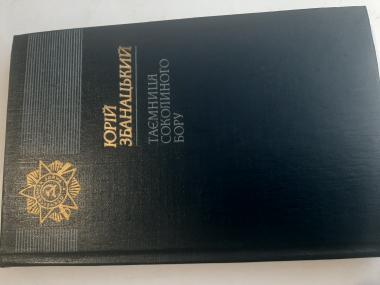 Збанацький Ю. Таємниця Соколиного бору Київ: Веселка. 1985 318s., binding type: hardcover.
Category: Book, journal, almanac
Rubric: Ukrainian prose of XX-XXI centuries.;
Place of origin of goods: СССР
Language: Ukrainian
Description: Повість українського радянського письменника, лауреата Державної премії УРСР їм. Т.Г Шевченка, Республіканської літературної премії ім. Лесі Українки та Республіканської комсомольської премії ім. М. Островського про хлопчиків Тимка, Василька, Мишка, які знайшли своє місце в боротьбі радянського народу проти фашистських загарбників.
Status: хорошее
Description of seller: Пересылаю Укрпочтой, Новой почтой по предоплате на карту Приватбанка, или наложенным платежем. Номер телефона 0678742527, 0934826417 Ел.почта vova.andrushenko.78@mail.ru
ORDER FORM
Marked with * is required