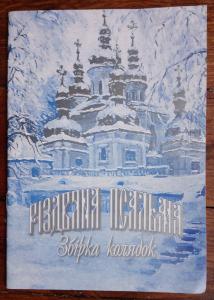 Різдвяна псальма. Збірка колядок Київ: Києво-Печерська Лавра. 2001 19s., binding type: paperback.
Category: Book, journal, almanac
Rubric: Anthropology, ethnography, mythology, folklore; Religion: Christianity; Music, singing: notes, libretto;
Place of origin of goods: Украина
Language: Ukrainian, Russian, Belarusian
Description: До збірки ввійшли колядки, що тепер найбільше співаються в Лаврі. Початок и основу збірки складають рукописні ноти, що ввійшли в добірку, складану з початку 90-х років регентом Лаври іноком Павлом, нині насельником Київського Свято-Троїцького Іонінського монастиря ігуменом Спиридоном (Письменним). Також збірка доповнена декількома колядками російською і білоруською мовами. Формат: 16 х 23 см.
Status: дуже добрий, штамп-екслібріс
ORDER FORM
Marked with * is required